By Meghan Thomas
If you have a fur-baby (or multiple!), you know that they typically end up taking WAY more of your time, money, and mindshare than they should. So while you might have thought that getting your pet to Guam was the hard part, you can't forget about finding all the right resources you need to take care of them once you're here! Here are a few "did you know's," tips, and tricks with the help of 3-year-old Australian Shepherd, Milli, for taking care of your favorite family member on Guam.
You Made It! Almost… Final Checks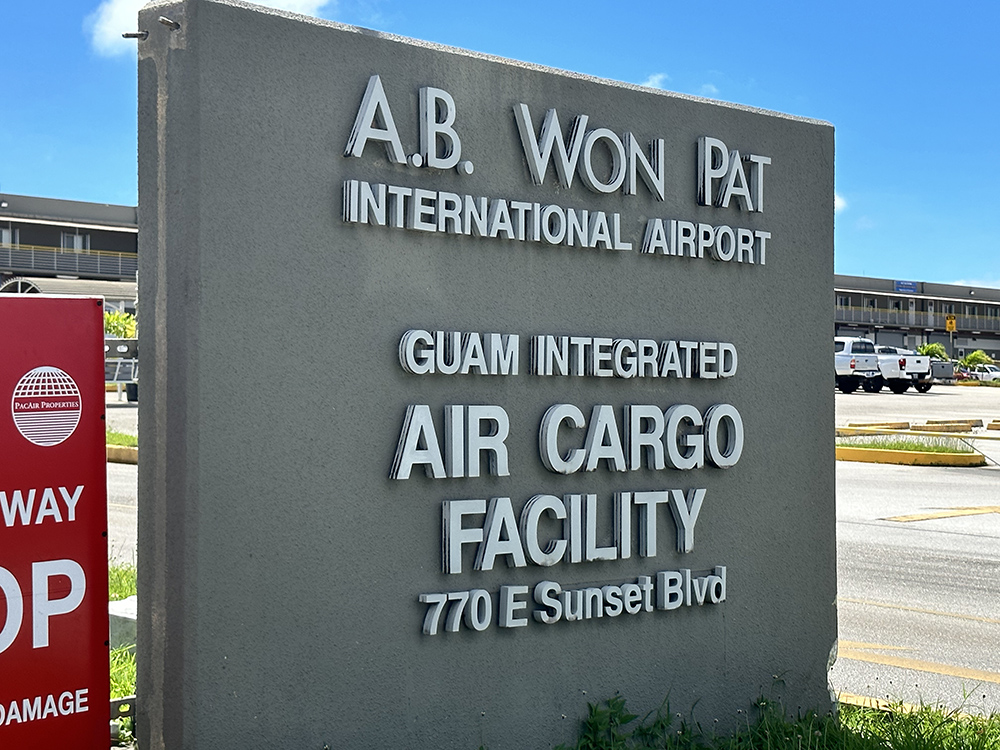 You touch down on Guam and think, "We finally made it! Time to relax, right?" Not… quite. Here is the very simple, yet important process of getting your final pet check upon arrival - and on your way home to snuggle your fur-baby!
Log onto Guam International Airport Authority's public WiFi to check with the company you coordinated with for arrival (likely Pet Shippers Guam) to make sure they haven't communicated any changes.
Hint: I would recommend telling them you will not have cellular access upon arrival, and the best way to send updates is through email!
If no changes, go about your arrival process per usual:

Fill out your customs form online
Pick up your luggage
File through customs

Once you're free and clear, you will have to leave the main airport building.

Take a left out of the parking lot, and another left at the first light you hit, E. Sunset Blvd.
Once you round the road to the right past the main airport, you will wait until the sixth parking lot or road to your left to enter the "Menzies Cargo" building (Ste. 227, 770 E Sunset Blvd, Tamuning.)

In the first building on the left, you will see a larger cargo door, and then a few smaller cargo doors — this is where you will pick up your pet! They will wheel them out still in their crate.

The quarantine vet will take them out of the crate and do a quick "post-arrival examination."

This seems scary — but they simply check to make sure your baby didn't get hurt during transit, that their teeth look healthy, and that there are no majorly visible or reactionary health issues that the pet could pass on to other animals on island.
Then they'll wave the "magic wand" (microchip reader) to confirm your pets identity.

FINALLY, YOU'RE FREE TO TAKE YOUR FUR-BABY HOME!
Better Safe than Sorry: Finding your Vet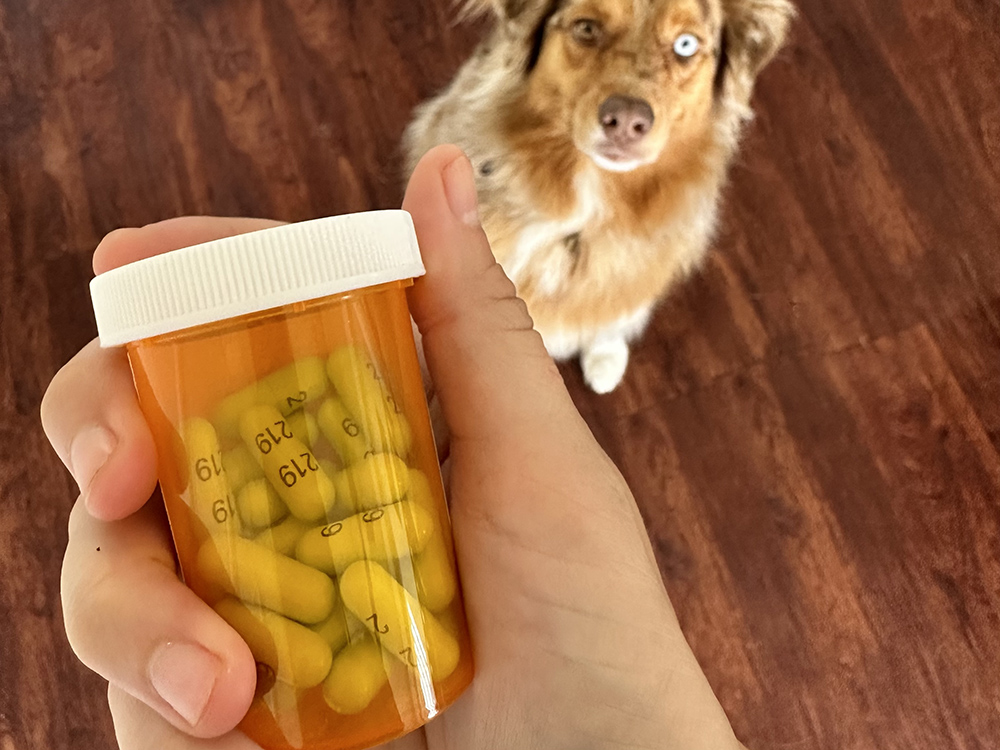 It's always in the middle of the night, when you don't have a registered vet that something goes wrong, isn't it. Better safe than sorry, so make sure to identify the veterinarian you plan to use, and consider bringing your pet in for an initial registration appointment to get to know one another! You'll find something in almost every major village.
Treat Yo' … Pet! Pet Supply Stores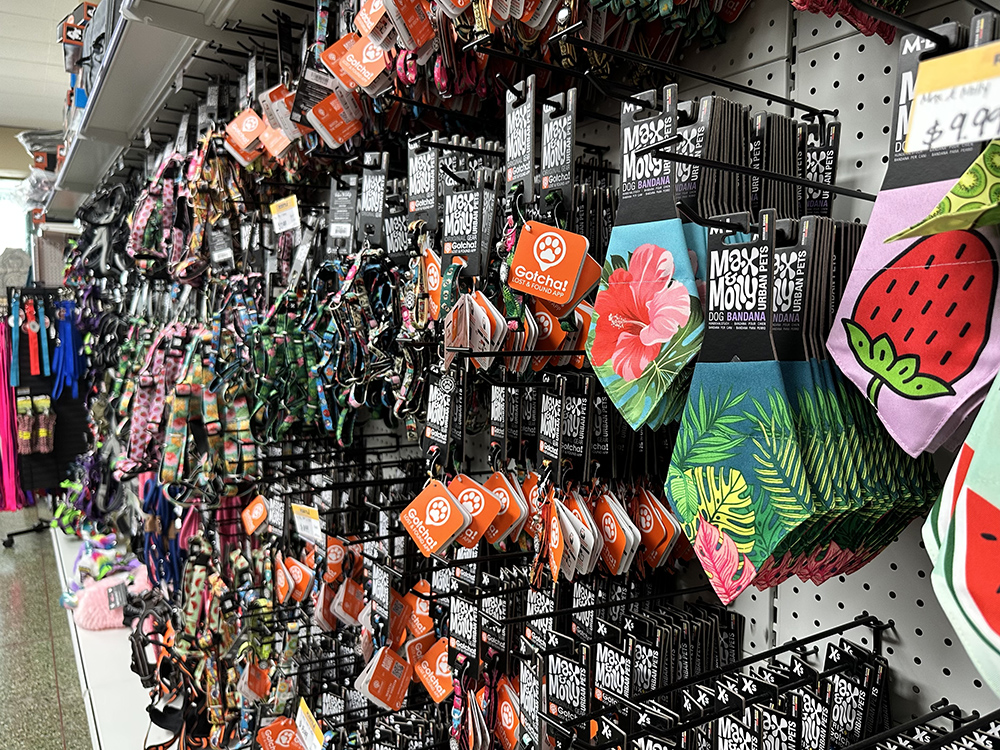 While you won't find the plethora of boutique pet stores on every corner you do on the mainland, Guam has a couple tried and true pet supply stores where you can go to get your pup a new leash, bowl, toy, or treat! Plus, if you're in a hurry, check out the small pet aisle in any of your local Pay-Less supermarkets for a quick find.
"I want to break freeee!": Leash Free (and Leash-Relaxed)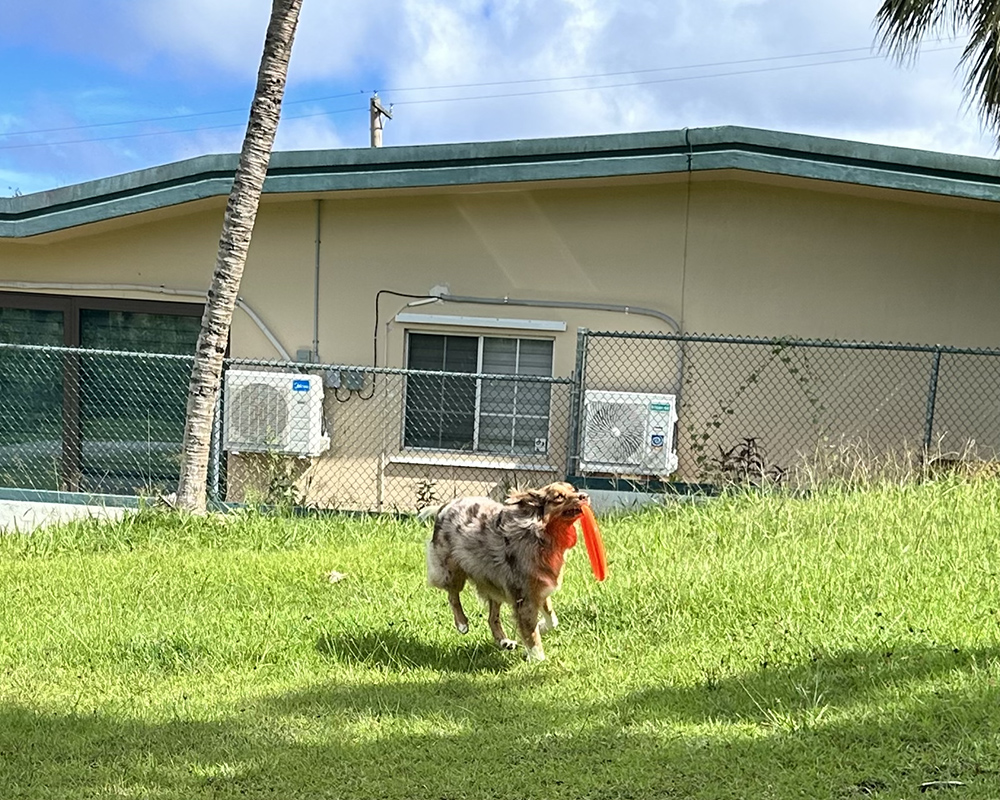 Fido in need of a good romp without the constraints of his human (you're so slow!) holding him back? Hop in the car and spend some time in one of these leash-free, and leash-free-friendly areas. Of course, always make sure that you are keeping a close eye and being respectful of those around you!
Dededo Dog Park: grassy, fenced in, and central to many of the populated villages
Naval Base Guam Dog Park: grassy, fenced in, and offering shaded seating so you can stay cool while your pup romps!
"Leash-Relaxed"
Jimmy Dees Bar & Grill - While leashes are encouraged, you'll find many pups hanging out digging in the sand and frolicking through the shallow water while their humans "play" as well!
Ypao Beach Park - With both open grass and open beach, this serves as a great place to get your steps in while your pet does as well!
Asan Beach Park - Take your pet on a jog around the perfect oval track you'll see runners on day and night! Hop down to the beach for a nice stroll along the water's edge to let Fido cool off in the waves as well.
Begging to Come: Dog Friendly Eating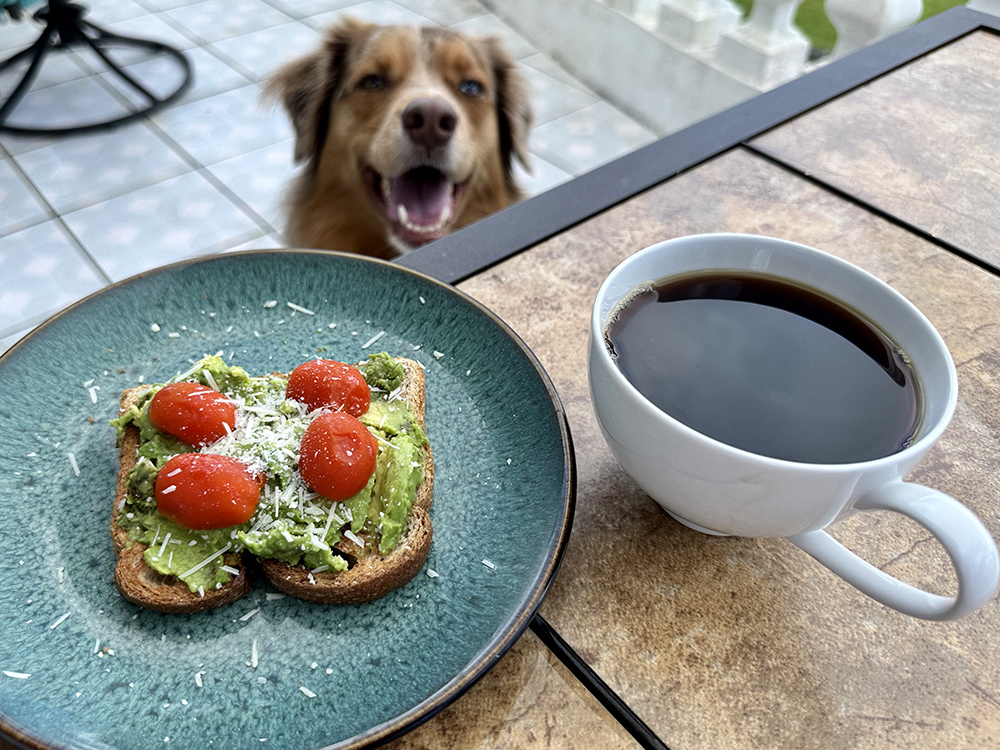 While those arriving from many parts of the mainland at this point assume you can take your dog everywhere… it's worth a check before driving across the island for dinner with your pet in tow. While Guam has gotten much better about being dog/pet friendly at establishments, they're still fairly few and far between.
Hint: A good rule of thumb: does the location have a large outdoor space? You should be good to go! If not, consider leaving Fido at home this time.
Here are a few easy places to start — but check out more pooch-friendly businesses here!
Tumon
Beach Bar & Restaurant - casual beachside bar with volleyball, snorkeling, and gorgeous sunsets!
TABU at the Dusit Thani Beach Resort - tiki set-up with rope swing seats, funky music, and beach loungers to relax and enjoy a vibe-y evening
Ban Thai Restaurant - one of the most well-known Thai restaurants, offering delicious food, authentic atmosphere, and a spacious outdoor patio
Tamuning/Hagatna
Jimmy Dee's Bar & Grill - laid back, "backyard" vibe with volleyball, frisbee, and plenty of ocean wading to watch one of the best sunsets on island
TuRe Cafe - one of the only beach side cafes on island, check out their new expansive patio for food, coffee, and more
Carabao Brewery - a large outdoor area is always bouncing with other furry friends (and humans!) to play with…. and the staff will bring out treats if you are the goodest boy
Mosa's Joint - patio seating available in the front for people watching and pup mingling
Agat
Buen Provecho Taco Shop - a bit of a hike from the central villages, but completely worth it for scrumptious street tacos and one-of-a-kind sauces, all enjoyed outdoors!
Big Boys-Burger Pit Stop - a hidden gem, stop by near the Agat Mayor's office and you'll be lucky to catch the juiciest and most sauce-filled burger around
Face Masks & Cucumbers: Groom & Board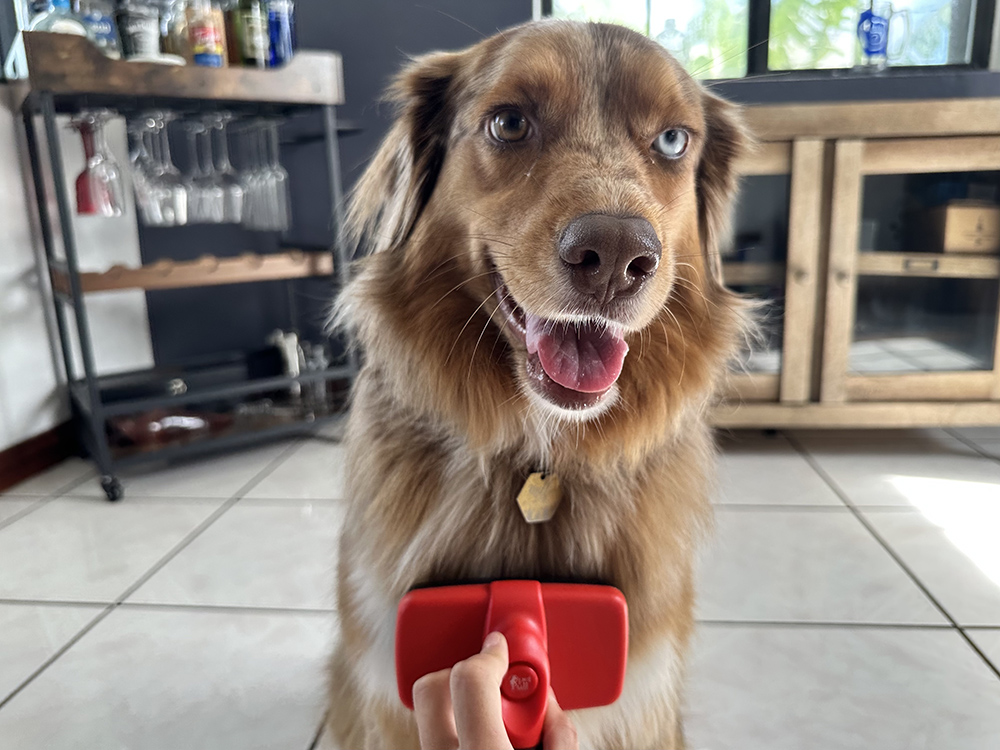 With all the sand and sun your fur-baby is getting, they're sure to need a bit of a makeover every once in a while to keep them looking fresh! Bonus: Many of the groomers on island also provide boarding services, so if you find one you love, you can feel confident in your little one's well-being while you yourself get some well rested R&R off island!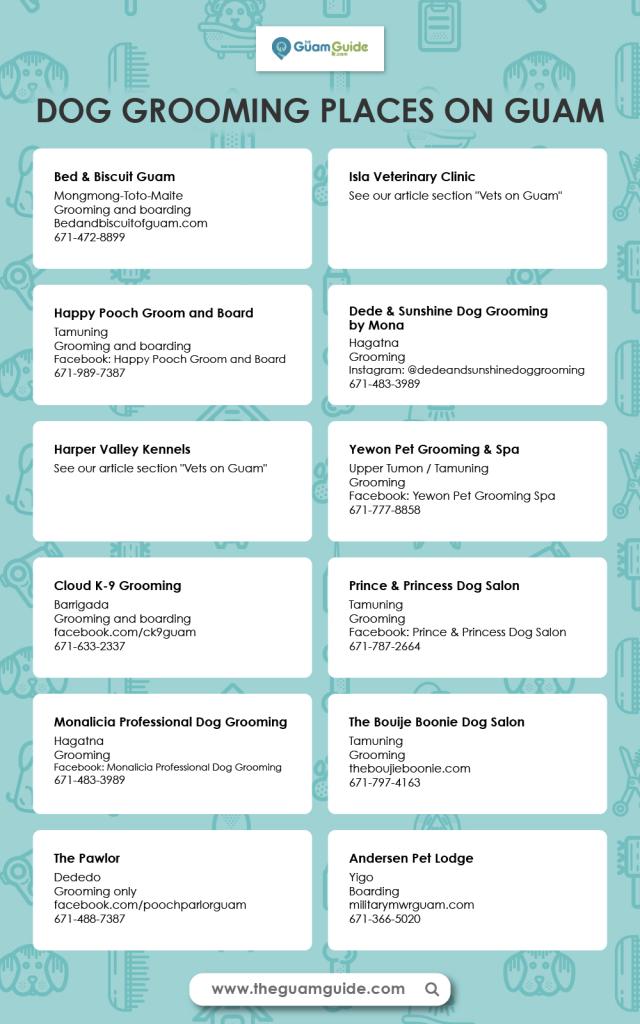 DID YA KNOW!
A few "quick tips" you learn along the way…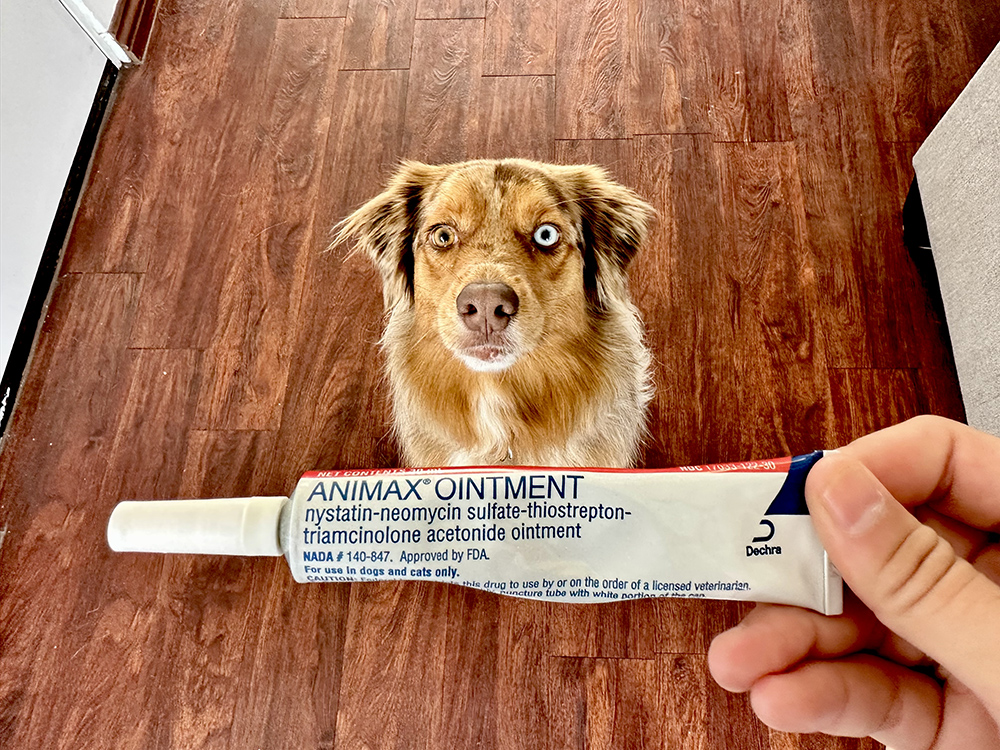 1. Stateside Monthly Medication ≠ Guam Monthly Medication
It turns out that the type of flea, tick, heartworm, etc. medication that you take is regional! If you're reading this before arriving, DO NOT stock up on your Trifexus or whatever brand your pet currently uses. Find a vet soon after you arrive who can make sure that you're getting the right "triple threat" that will keep your pet healthy here in this environment!
2. Toads = Bad
Most pups learn this the hard way when they decide it will be fun to play with the giant toads that jump all around the wet and swampy ground. But they are POISONOUS to dogs (and most pets). If you see your pet playing with a large toad or they come to you from outside foaming at the mouth, immediately use a wet cloth and thoroughly wipe the inside of their mouth, tongue and throat as much as you can. They will likely vomit, which is normal - as long as you catch it quickly they should be fine after an hour or so, but watch them closely and take them to a vet if they continue to act weird for more than 2-3 hours! And luckily… most of the time once they make the mistake once… they won't do it again!
3. Ear infections = Constant
My vet made what I thought was the joke "Most dogs on Guam get ear infections about every 9 days." Turns out… not a joke. The humidity, dirt, bugs… whatever it is, they infections love it. If your dog's ears are abnormally red or they are itching a lot, or even smelling, take them in to get an antibiotic cream from your vet. They will likely give you a full tube - that once the infection is gone, you can apply one per week or so to help prevent the regular infections from occurring!
Any pet parent knows we could continue talking about our fur-baby's for days - but I hope these few tips have you dog parenting like a pro on island in no time!
For more tips and helpful resources for your fur babies on Guam, see:

Puppy-friendly Places on Guam: Man's Best Friend Welcome