We're always on the look out for unique ways to make use of our island's plentiful produce. As you saw in part 1, we've culled the best local recipes that are also easy to make at home.
CALAMANSI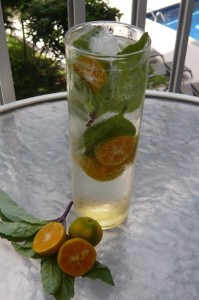 CALAMANSI PATRON MOJITO
1 ½ oz. Patron Silver Tequila
4 calamansi
1 oz. simple syrup or 1 tablespoon of sugar 1 tablespoon water
Club soda
Fresh mint leaves
Sugar
In a mixing glass, squeeze 2 calamansis, and clear out seeds. Muddle mint leaves, calamansi juice, and simple syrup or sugar water.
Wet the rim of a drinking glass and roll the rim in sugar to make a sugar-rim.
In the mixing glass, add ice, Patron Silver Tequila, and top with club soda.
Shake gently and pour into sugar-rimmed glass. Cut 2 calamansis in half and drop into glass.
LOCAL MANGO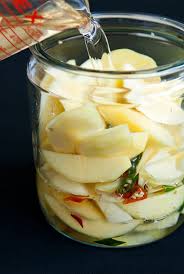 GREEN PICKLED MANGO
Green mango wedges
Salt
3-5 garlic cloves, sliced
Fresh red pepper (optional)
Distilled water
Wash mangoes thoroughly, slice off stem, then cut in half. Remove seed, then cut mango into thin wedges.
Sprinkle salt on mangoes, mix in garlic, and red pepper. Allow some time (30 minutes or more) to let the mango absorb the salt.
Place salted mango in a re-sealable container, such as a jar.
Pour water into container and fill until water is the same level as the mangoes.
Refrigerate overnight before serving.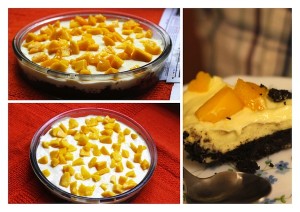 MANGO CREAM OREO CHEESECAKE
5 ripe local mangoes, chopped into small cubes (keep or squeeze excess juice from mango to give topping a saucy consistency)
2 pkgs, of 8oz. cream cheese, softened
2 tablespoons sugar
1 container of whipped cream
12 oreo cookies, remove cream and finely crush
2 tablespoons butter, melted
3 tablespoons calamansi/lemon juice
Mix crushed Oreo cookies and butter in an aluminum pie pan. Spread around to make the crust. Refrigerate.
Mix cream-cheese, 2 tablespoons calamansi/lemon juice, left-over Oreo cookie cream filling, and sugar until smooth. Gently fold in whipped cream.
Retrieve the hardened cookie crust from refrigerator and evenly pour the whipped cream-cheese mix over the crust.
In a glass bowl mix remaining calamnsi/lemon juice, mango juice with the chopped mango and evenly pour over the top. (Citrus juice brings out the flavor of the mango)
Refrigerate for 4 hours or overnight before serving.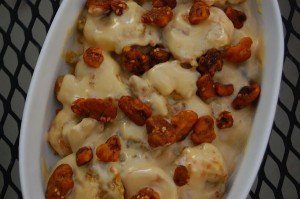 MANGO-AMBROSIA SHRIMP SALAD
Take the popular walnut shrimp to another level. This recipe is a dish a once popular Filipino restaurant on Guam called Kamayan had served. It was in the salad section, and it completely took my family by surprise. It was the dish we all raced to from the buffet line. The combination complemented each other well, a fusion of sweet-n-sour in a creamy sweet-n-salty sauce. This salad is full of texture, from the crunchy fried shrimp, toasted nuts to the tender yet plump tart mandarin oranges and juicy mango and fruits.
2-4 ripe local mangoes, cubed
1 can tropical fruit cocktail, drained(remove cherries)
1 small can of mandarin oranges, drained
1 lb. shrimp, peeled deveined, chopped into two pieces
Salt for seasoning
½ cup sugar
2 eggs
2 cups corn starch
1 can sweetened condensed milk
2 tablespoons mayonnaise
½ cup walnuts halves
Cooking oil for frying
2 ripe local mangoes, chopped
½ cup water
Prepare fruit salad by pouring fruit cocktail, mandarin oranges and mango into a bowl. Pour in the condensed milk and mayonnaise and gently fold into the fruit mixture. Refrigerate for a few hours.
In a pan, boil sugar in ½ cup of water. Stir until thickened. Add walnuts, mix and set aside.
In a deep pot or fryer, heat cooking oil at medium high heat.
Lightly season shrimp with salt. Dip the shrimp pieces into an egg wash then dip into the corn starch.
Carefully drop the shrimp pieces into the deep fryer.
Scoop up shrimp pieces when they float up to the surface and are light-golden brown. Mix with ambrosia fruit salad.
LOCAL AVOCADO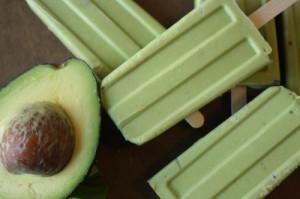 AVOCADO POPSICLES
A healthy alternative with a flavor reminiscent of green tea ice cream, but creamier.
Ice tray, toothpicks and plastic wrap or popsicle-making tray
3 ripe avocados, chopped
2/3 cups of sugar
2 cups of milk
Pour in milk, sugar and avocado into a blender and press the Puree button. Blend until you see a thick smooth creamy mixture.
Pour mixture into the ice tray. Seal the top with a plastic wrap, and stick the toothpicks through the plastic wrap in an 90-degree angle.
Let it freeze overnight, before serving. When ready, remove the plastic wrap carefully and twist the ice tray to loosen the popsicles. Use the toothpicks as the handle while enjoying the popsicle.

 
AVOCADO SALMON POKI
2 cups of chilled raw salmon or smoked salmon, chopped into cubes
1 whole avocado, chopped into cubes
½ of medium onion, minced
½ cup of tomatoes, chopped (optional)
2 tablespoons of sesame oil
1 red chili pepper, chopped
1 tablespoon of dried wakame seaweed (optional)
Salt for seasoning
Place the dried wakame seaweed in a bowl of water to reconstitute for a few minutes, then drain.
Pour into a bowl the salmon and season with salt, and peppers. Drizzle 1 tablespoon of sesame oil, and carefully mix to evenly coat the fish.
Add the tomatoes, onions, seaweed and avocado. Sprinkle with a pinch of salt, and drizzle with sesame seed to season the vegetables and gently fold with the salmon.
Refrigerate before serving.

 
CHUNKY AVOCADO PICO DE GALLO
3 whole avocados, chopped into cubes
1 onion, chopped
2 tomatoes, chopped
Salt
½ cup of calamansi/lime juice
1 red chili pepper, chopped (optional) or ground black pepper
2 tablespoons cilantro, chopped
In a bowl, mix avocado, tomato, onions, cilantro and pepper and sprinkle with salt to season
Pour calamansi/lemon juice over the ingredients and gently fold together.
Serve with chips or over grilled fish.