When it comes to produce, "buy local" is especially important — yes, even on Guam! If you've been living on Guam for a while or are new to the island, you've probably felt the struggle of hunting down some fresh produce without breaking the bank. Many items are imported, which increases the cost and reduces the freshness.

Guam's local produce scene is thriving, along with a growing commitment to sustainability. The island offers a bounty of fresh and vibrant fruits and vegetables. You might stumble upon a new fave when checking out some of the exotic fruits and vegetables unique to this climate and region.
Sure, you can find some locally grown items in grocery stores, but here's a comprehensive guide to other places to find fresh, local produce on Guam.
Guam Farmers Market
Kickstart your weekends right here — where you can get your fresh produce from local farmers. It's a sweet spot to check out the local food and culture scene too. Enjoy breakfast from one of the food vendors while strolling through the market. There's also a variety of vendors that sell plants and seedlings if you want to try growing your own garden of fruits and vegetables. It gets pretty busy so we recommend you get their early to snag the best selection of produce and goodies. Bring cash since many of the vendors don't accept credit cards.
Saturday and Sunday, 5:00 a.m. to 10:00 a.m.
Location: https://maps.app.goo.gl/C2Py7yccJr2qUJCD6
Follow Farmers' Cooperative Association of Guam on Facebook for weekly updates of produce available.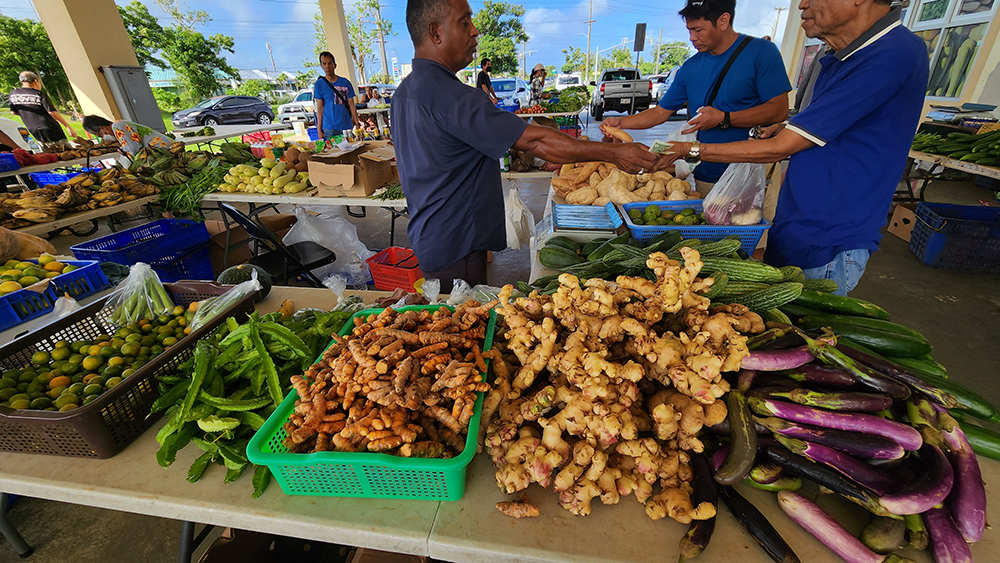 Dededo Swap Meet (Old Flea Market)
Also referred to as the old flea market, the former location of the Guam farmer's market. You'll find vendors selling fresh fruit, vegetables and plants. You may even pick up a few random items from vendors selling clothes, furniture and second-hand merch. The main stores are open daily but the best time to visit are on the weekends, when most vendors, who are independent farmers, bring out their harvest. It's the best spot to get local bananas and to try the many varieties of the fruit. Bring cash since many of the vendors don't accept credit cards.
Best time to visit: Saturday and Sunday, 6:00 a.m. to 9:00 a.m.
Location: https://maps.app.goo.gl/3JYqNJrsRRLjofhf8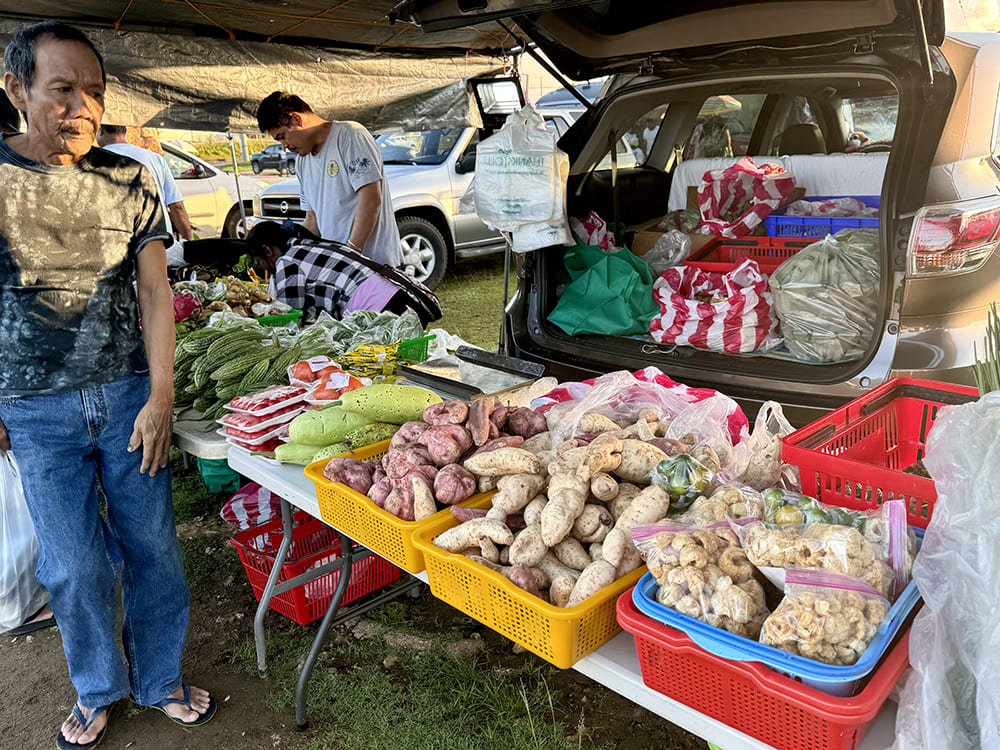 Photo by Bert Duarte
Chamorro Village Night Market
Every Wednesday evening in Hagatna, Chamorro Village becomes a bustling center for culture and food. It's a popular event for locals and visitors. Catch a live performance while enjoying some local cuisine and treats while you shop for unique trinkets and gems. Pick up some fresh veggies and get adventurous with some exotic island fruits like starfruit and breadfruit. Just remember to bring cash since many of the vendors don't accept credit cards.
Wednesdays, 5:30 p.m. to 9:30 p.m.
Location: https://maps.app.goo.gl/M4P3Cm7VnGCFUQpT8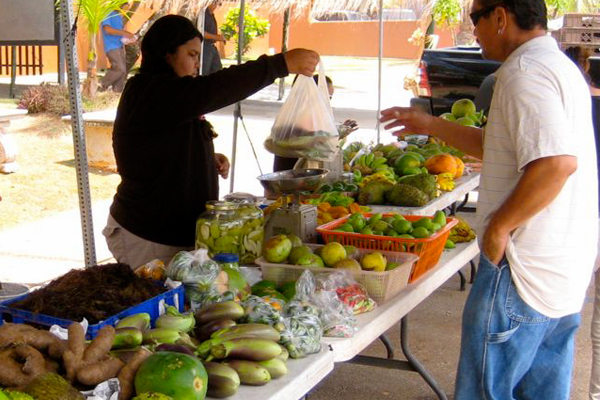 Mangilao Night Market
The Mangilao Night Market is open every Thursday evening and is located next to the Santa Teresita Catholic Church. It's not as elaborate as the farmer's market but there are small vendors that have local produce available along with some other vendors selling prepared food and arts and crafts. Make sure you pick up some hot peppers! The village hosts the Mangilao Donne Festival every year in September, so if you see a giant chili pepper near the market, you're in the right place. There's plenty of open parking and try to get there early because things sell out quickly. Bring cash since many of the vendors don't accept credit cards.
Thursdays, 5:00 p.m. to 9:00 p.m.
Location: https://maps.app.goo.gl/BoUeQqcSCFS8CQDi9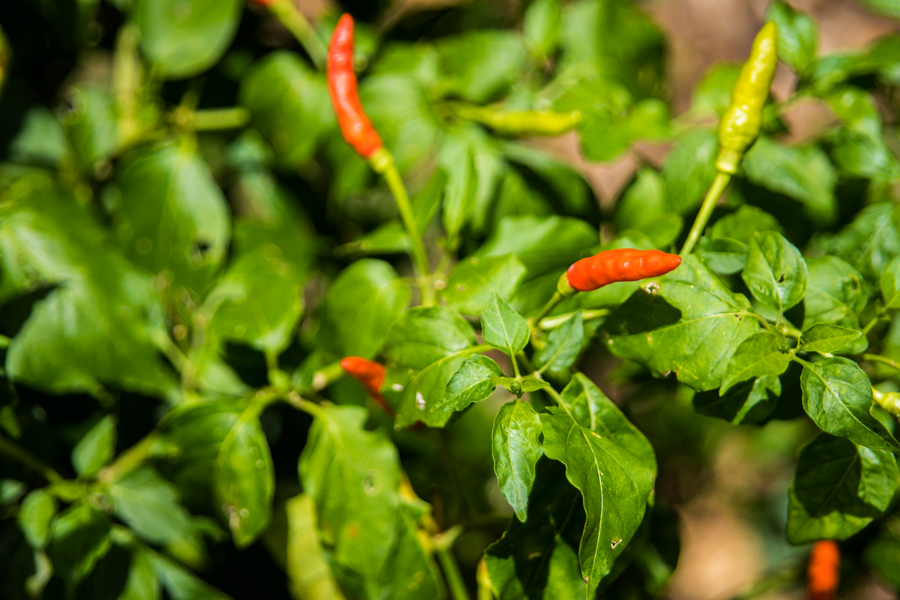 Agat Night Market
Take a trip down south on a Tuesday to visit the Agat Night Market located at the Hagat Sagan Bisita. The market is open every Tuesday night and the vendors have a great selection of local fruits and vegetables. You may even pick up some fresh fish and meat and get some tips from the vendors on how to best prepare them at home. Bring cash since many of the vendors don't accept credit cards.
Every Tuesday, 3:00 p.m. to 7:00 p.m.
Location: https://maps.app.goo.gl/5eHdwKT1zv95UPJ39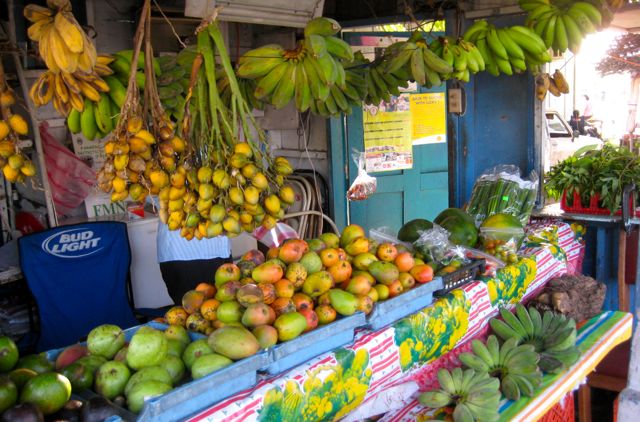 Marcelino & Nghinh Tropia Vegetable Stand
This vegetable stand is conveniently located in Dededo, on Fatima Street. It's near the Guam Farmer's Market. If you're headed south from Route 1, after passing the Farmer's Market on the right, you'll see Mobil station on the left. Make that left immediately after the station and you'll see this vegetabl stand on your right. Add this stop to your daily errands and pick up your fresh produce on the way home. Bring cash since they don't accept credit card.
Location: https://maps.app.goo.gl/bhy16Eazn44Q9c1T9
UOG Triton Farms
The University of Guam Triton Farm is community-supported and education farm open to the public. You can purchase fresh eggs, fruits and vegetables straight from the farm. They offer tours where you can also learn about aquaponics and sustainability.
Monday-Friday, 9:00 a.m. to 4:00 p.m. Closed on holidays.
Location: https://maps.app.goo.gl/P3tXmNzJY2fnrMcM7
Guahan Sustainable Culture
Shop for fresh local produce online at Guahan Sustainable Culture's farm fresh produce website. They offer weekly deliveries, with produce from Guam farmers and other local products. They also have education and training programs and community events. Follow them on Instagram to stay updated with their latest events.
Shop: https://guahan-sustainable-culture.myshopify.com/
Farm to Table Guam
Farm to Table Guam, a non-profit organization, was established in 2012 with the mission for every kitchen, cabinet and pantry to contain products made on Guam from crops grown on Guam. You can participate in a CSA (community supported agriculture) subscription to receive a box of locally grown produce on a weekly basis. See the CSA subscription box options on their website. They offer pick-up time and locations and delivery options as well. They currently don't offer base deliveries, but they can meet outside the gate. You can also purchase local produce every Tuesday, across the Hagatna post office — they accept cash and card.
Every Tuesday, 4:00 p.m. to 6:00 p.m. across the Hagatna Post Office
Order CSA Box Subscription: www.farmtotableguam.org/csa-app/
Follow Farm to Table Guam on Instagram for updates.
Get to know your local mom and pop stores
Explore some of the local mom and pop stores around the island. Some of these humble little shops carry troves of local produce, tasty specialties, and snacks.
See this flyer for more places for farm fresh produce, courtesy of Farm to Table Guam.