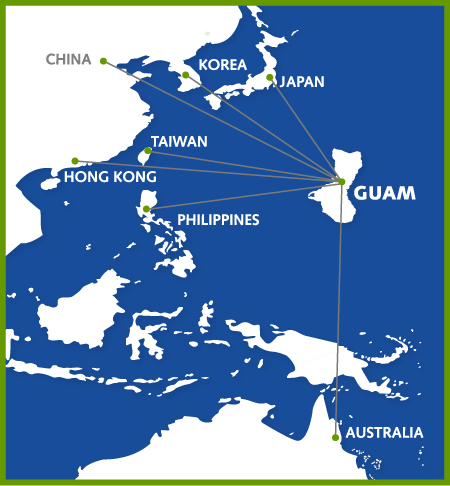 FACTS ABOUT GUAM
Political Status: Unincorporated Territory of the United States    
Capital: Hagåtña    
Official Languages: English and Chamorro    
Time: Chamorro Standard Time (CST), Greenwich Mean Time +10    
Population: 153,836 (2020 U.S. Census)    
International telephone code: 1-671    
Currency: US dollar (US$)    
Electricity: 120 volt/60 cycle    
Greetings: Hafa adai

HISTORY
Ferdinand Magellan arrived on March 6, 1521 as the first European contact. Spain ruled Guam for 333 years and its seminal influence is still seen in the Chamorro language, religious beliefs, and cuisine.
Guam was ceded to the U.S. following the Spanish-American War in 1898. The island was captured by Japan on December 10, 1941 and occupied for two years. On July 21, 1944, Guam was liberated by the United States. The island became, and remains to this day, an unincorporated territory of the United States. Liberation Day remains one of the most celebrated holidays on Guam.
LAND AREA
Guam covers an area of 212 square miles, and is about 30 miles in length with a width of 8.5 miles at the northern tip and a maximum width in the south of 11.5 miles.
Guam is on the edge of the Mariana Trench, the deepest trench in the world at the Challenger Deep — some 6.78 miles deep. If Mount Everest, the highest mountain on Earth at 29,040 ft, was set in the deepest part of the Mariana Trench, there would be 6,760 ft of water left above it.
CLIMATE
Between 75-86 degrees Fahrenheit (26-30 degrees Celsius), averaging 81 degrees Fahrenheit (28 degrees Celsius)
SEASONS
Dry season from December to May, Rainy season from June to November.
RAINFALL
Annual average is about 80 inches.
ENTRY REQUIREMENTS
Entry requirements for Guam are the same as any U.S. destination. Although U.S. citizens are required to possess a U.S. passport, on a case-by-case basis, photo I.D. and proof of citizenship may be accepted. Citizens of most other countries must have a valid passport and a U.S. visa.
Several countries througout Asia and Europe are eligible for the Visa Waiver Program. For detailed information, please visit the U.S. Department of Homeland Security website.
AIRLINES
United Airlines
T'way Air 
Jin Air
Japan Airlines
Philippine Airlines 
Star Marianas
Jeju Air
Korean Air 

Guam is about 6,000 miles from San Francisco; 3,800 miles west of Honolulu; 1,500 miles south of Japan; 1,596 miles from the Philippines; 2,026 miles east of Hong Kong; and 1,922 miles east of Shanghai.
Visit the A.B. Won Pat International Airport website for flying times from Asia, Australia, Micronesia, Russia, and North America.
MONEY
Financial Institutions: Bank of Guam, Bank of Hawaii, Citibank, Coast360 Federal Credit Union, Community First Federal Credit Union, First Hawaiian Bank, BankPacific, Philippine National Bank, First Commercial Bank.
ATMs: Star, Maestro, Cirrus, Armed Forces Financial Network, American Express, as well as additional ATMs available at most fuel stations, malls, and the A.B. Won Pat Guam International Airport
Credit Cards: Most major credit cards widely accepted
Contactless: Some retail and restaurants accept Apple Pay and Google Pay. 
RESOURCES
Guam Visitors Bureau    
Guampedia  
Guam Pacific Daily News    
Guam Daily Post