DIVE THE WORLD'S DEEPEST OCEAN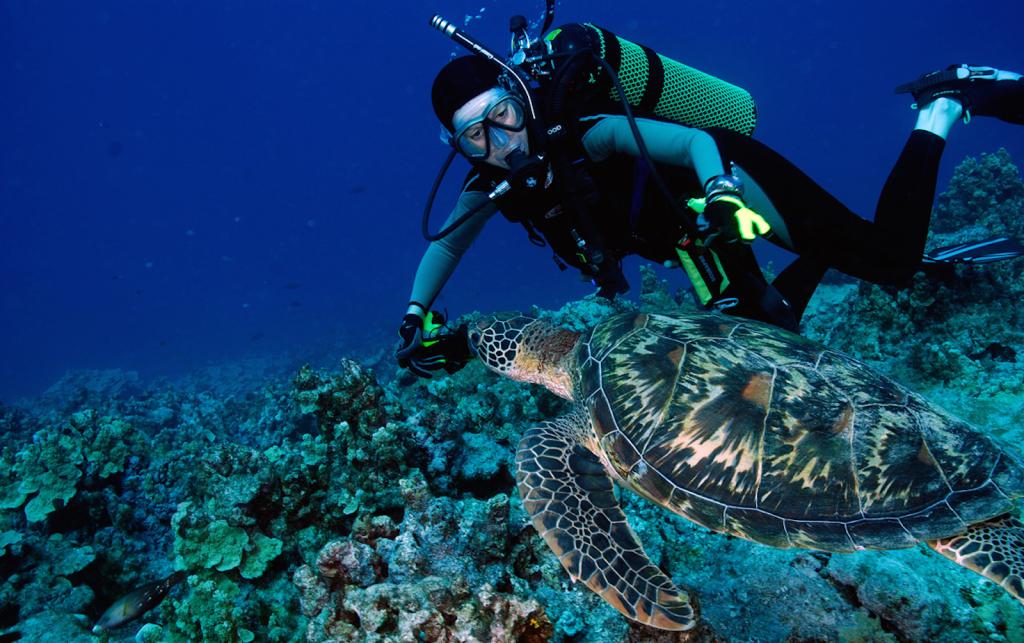 James Cameron made international news in March 2012 when his one-man submersible journeyed to the Challenger Deep, the deepest point of the ocean, some 6.8 miles down. The Challenger Deep is located in the Marianas Trench, just 250 miles southwest of Guam. Guam is home to a handful of dive shops and is a diver's dream complete with wrecks, vibrant reef systems, and temperate tropical weather.
PICNIC ON ALUPANG ISLAND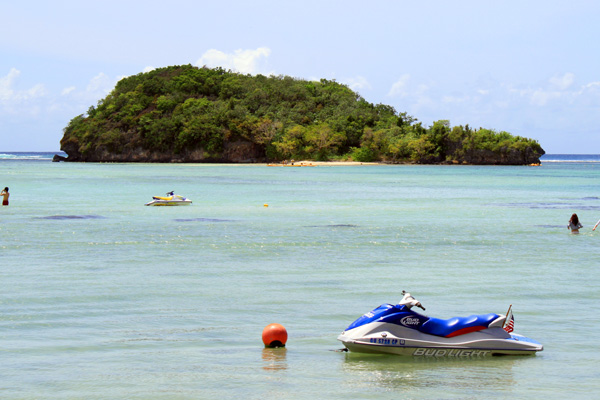 Alupang Island is situated about a mile off the coast of Dungca's Beach on East Agana Beach Front. Located inside the reef protected from the waves of the Philippine Sea, this uninhabited island is accessible from Hotel Santa Fe and and Onward Beach Resort. Adventurous types can rent jet skis and kayaks and journey to the small beach cove.
EXPERIENCE TRUE ISLAND CULTURE AT THE GUAM ISLAND FIESTA TOUR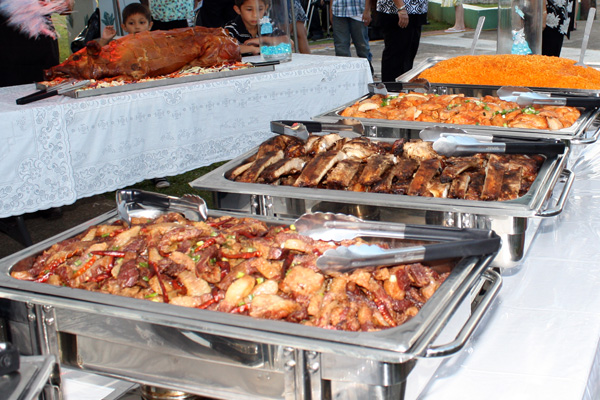 The Guam Island Fiesta Tour (GIFT) introduces visitors into the homes of local families for village fiesta celebrations. They are greeted with shell leis, invited to participate in cultural activities like coconut husking, talaya throwing, and tuba drinking, and are treated to tables laden with authentic Chamorro cuisine. Contact the Guam Visitors Bureau for a current schedule.
STAND ATOP THE WORLD'S LARGEST LATTE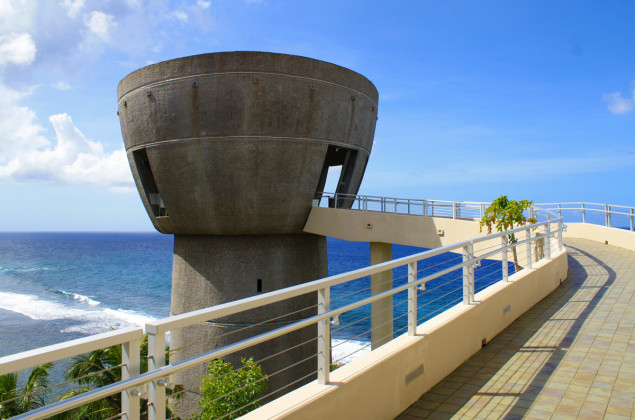 Standing atop a prominent stone point overlooking both Asan and Agana bays, the Latte of Freedom monument invites guest to look and learn about culture in the local area and across the island.
PET A COCONUT CRAB AT CHAMORRO VILLAGE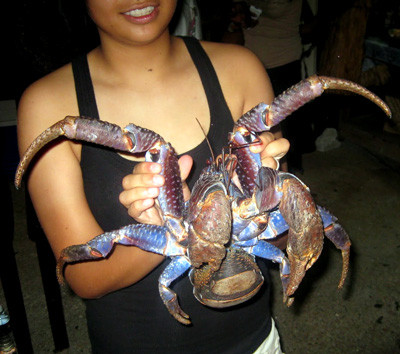 You may be hesitant to pet the largest land-living arthropod in the world, but go ahead, the coconut crab doesn't bite. Coconut crabs can weigh up to 9 lbs. with a leg span of more than 3 feet. Locals are adept at handling the crabs and sometimes keep them as pets. Stop by the Chamorro Village Night Market on Wednesday and Friday for a photo opp of you or someone brave petting the crab.
TOUCH SHIP WRECKS FROM TWO WORLD WARS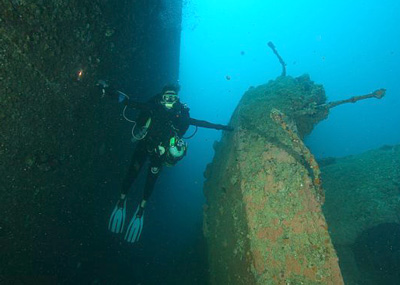 The SMS Cormoran rests 110 feet below the water of Apra harbor on her port side. The German ship was scuttled at the outbreak of the U.S. entry into WWI. A Japanese cargo ship, the Tokai Maru, which was sunk during WWII leans up against her screw. The site marks the only place in the world where wrecks from two different countries and two different wars are nearly touching.
GO BOONIE STOMPING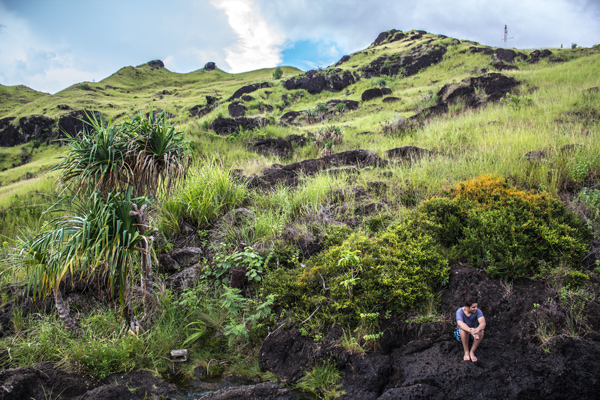 Locals call it "boonie stomping," you may know it as hiking. One thing's for sure: there's plenty to explore on Guam. From hidden waterfalls to swim holes to arid hills and thick jungles, Guam's boonie stomps range from easy to difficult, but they're never boring. Guam Boonie Stompers lead hikes on Saturday mornings for just $2. Check our Events page for upcoming stomps.
CLIMB THE TALLEST MOUNTAIN ON EARTH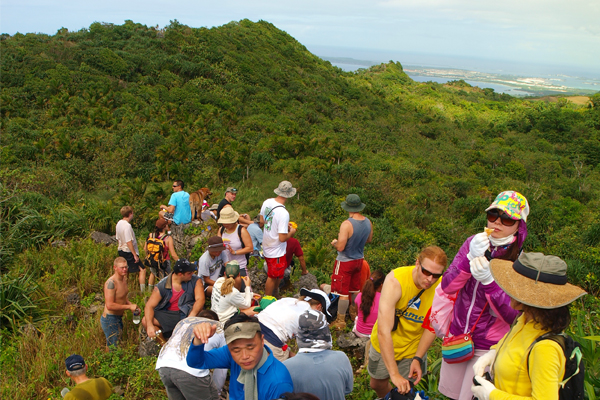 Mount Lamlam (meaning lightning in Chamorro), located in the southwestern village of Agat, is the highest peak on Guam. Though Mount Lamlam is only 1,332 feet high, the distance from the peak to the bottom of the nearby Mariana Trench is perhaps the greatest change in elevation on Earth over such a short distance. The Marianas Trench reaches a maximum known depth of 6.78 miles. If Mount Everest, the highest mountain on Earth at 29,040 feet, was set in the deepest part of the Mariana Trench, there would be 6,760 feet of water left above it. Hikers can reach the mountain trailhead across from Cetti Bay Overlook and summit in about 30 minutes.
RIDE A CARABAO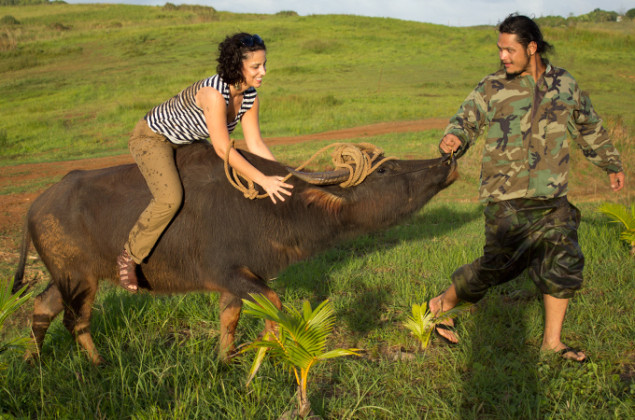 These docile mammoths are the water buffalo of Guam. Weighing up to 2,000 pounds, this national symbol of Guam has been used for centuries in farming. Visitors can ride the carabao, albeit very slowly, at a few locations around the island, such as Chamorro Village and Fort Señora Nuestra de la Soledad in southern Guam.
RELIVE THE ANCIENT PAST AT THE VALLEY OF THE LATTE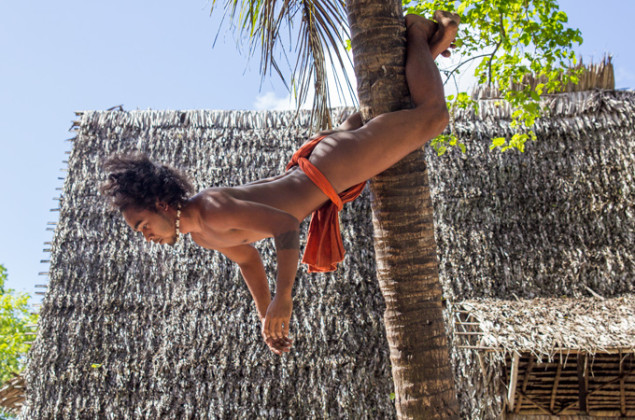 Explore thousands of years of Guam's culture and history at The Valley of the Latte, just a 20-minute drive from Tumon Bay. The park covers 5 acres of the beautiful Southern part of the island and offers engaging activities, such as hands-on workshops where you can learn to weave decorative works of art or bake hotnu bread (in a wood-fired oven). Embark on outdoor adventures through guided tours, ancient latte sites, botanical gardens and an animal sanctuary. The Adventure River Cruise is their most popular tour, but you can also explore by kayak or paddle boarding. They've got a calendar filled with special events, so be sure to scope that out when you book your tour on their website..