By Peggy Pixley
The island of Guam is unique for its cultural, historical, and ecological features. Located in the Pacific Ocean and neighboring the Northern Mariana Islands, Guam is famous for its warm, crystal-clear, waters which are perfect for an array of water sports, especially SCUBA diving. Guam's SCUBA industry stands out as being affordable and accessible. Whether you're looking for a beach or boat dive, being near the ocean makes them a breeze to conduct. Historical wrecks and beautiful reefs are just a short drive or boat ride away, offering incredible underwater adventures that won't break the bank. Here are several things you should know about getting dive certified on island.
SCUBA GEAR
SCUBA is an acronym for self-contained breathing apparatus. It refers to a system of equipment that makes it possible to stay underwater longer than while free-diving and explore deeper than while snorkeling. You will learn the more technical components of your gear during certification courses, but the standard equipment consists of:
BCD (Buoyancy Control/Compensator Device)
regulator
mask
boots
fins
weight belt and weights
an air tank
During your courses, the dive shop will provide rental accommodation for the required gear. This is usually a small fee included with your certification cost. Going into your course, you need to know your shoe size, weight, and clothing size to get a proper fit for your gear. This will also account for how much weight your instructor will have you attach to your weight belt on the dive. It may take a few dives to know how much weight works best for you.
On Guam, it is common for wetsuits to be an optional choice due to the warm temperatures of the water. However, keep in mind that it does get colder the deeper you are projected to dive and while performing a dive at night. If you choose not to opt for a wetsuit, the best thing to wear is a rash guard that can protect you from the sun and help prevent chaffing from your BCD. Your preferences on gear will come to you over time after trial and error as you grow as a diver. There are variations of fin sizes and shapes, styles of masks, lengths of dive boots, and so much more.
CERTIFICATION PROCESS
1. Choose a dive shop and do trial dives
Getting SCUBA certified can seem daunting at first, so it's understandable if you feel hesitant to jump right in. You can inquire at a dive shop if they provide a DSD (Discovery Scuba Diving) or Try SCUBA course. This course provides the essential information needed to dive safely, without worrying about certification standards. During a trial dive or two, you can decide whether you feel comfortable SCUBA diving. See our dive shop list further down this article.
2. Get an Open Water Diver certification
Most people jump into getting an Open Water Diver certified immediately. OW Diver certification can range from a commitment of 3-7 days. It consists of a combination of confined water dives (swimming pools) and open water dives (open ocean). The curriculum includes basic dive theory, underwater skills, and gear assembly.
3. Pass the course
You will receive a book to study during your course and possibly classroom lessons. There will be a time in and out of the water dedicated to learning. To pass the course, you need to complete the required diving skills, as well as a written exam. Afterward, you will receive a certification card (digital or physical) and can dive within the range of your certification level.
Minimum Requirements: The minimum age requirement for getting Open Water Diver certified is 15 years old, however, student divers at least 10 years of age can earn the PADI Junior Open Water Diver certification, which they may upgrade to PADI Open Water Diver certification upon reaching age 15. Applicants must also have the ability to swim and tread water, and being medically fit to dive. Dive shops on Guam averagely range their OW diver costs from $200 to $300. These shops will also carry different kinds of certifications, such as PADI (Professional Association of Dive Instructors), SSI (SCUBA Schools International), and NAUI (National Association of Underwater Instructors).
Specialty Courses: There are specialty courses depending on the type of dive certification you choose, the route going forward from Advanced Open Water certification leads into the professional field. Additionally, you can take specialty courses such as Nitrox (enriched air), deep diving, drift diving, and more to enhance your skills and/or qualify for different kinds of diving.
Dive Shops:
Micronesian Divers Association (MDA)
Axe Murderer Tours/ Scuba Guam Dive Shop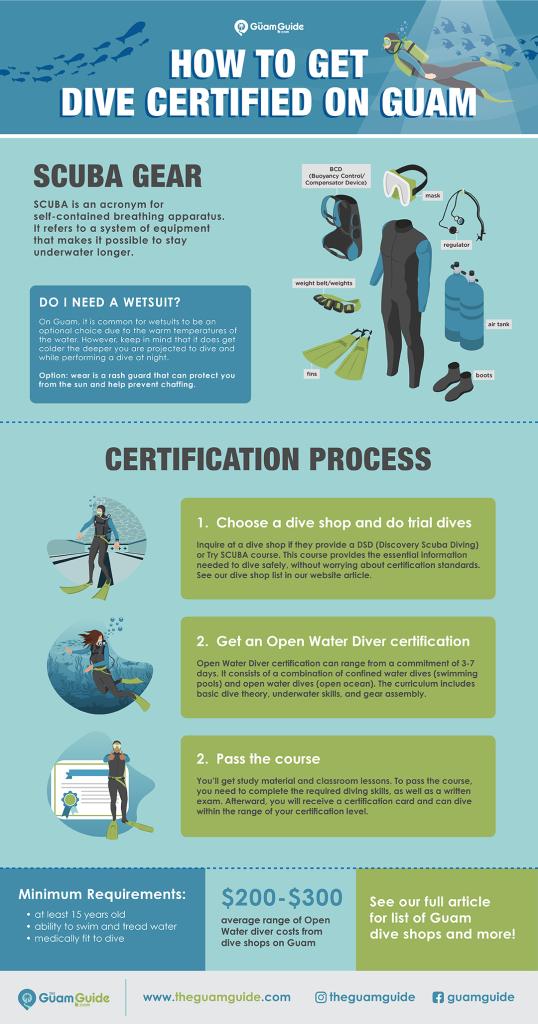 If you want to learn more, check out our interview with Robert G. Wyckoff, a diving instructor from Professional Association of Diving Instructors (PADI) for more tips and insights when it comes to SCUBA diving.
Happy diving!