If you're visiting Guam and want to see the island in ways you can only see with a hike check out some of the spots on our list. Make sure you come prepared with water, sunscreen and some mosquito repellant. It might be worth wearing longer pants to avoid scrapes and cuts from the sword grass on some of your hikes. Read all of our tips for safe hiking on Guam.
MOUNT LAMLAM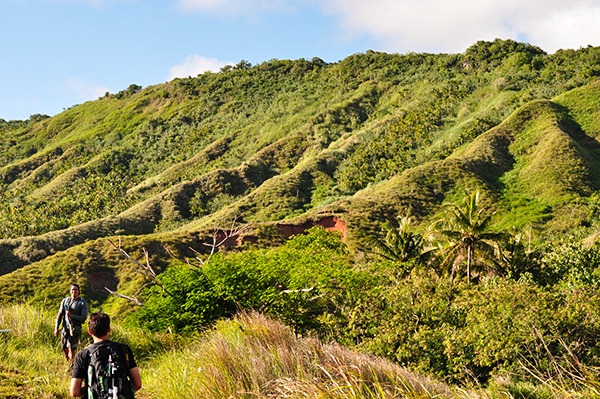 This hike up to Guam's highest peak offers you an impressive view of the ocean and mountains of the southern end of the island. This hike is fairly short, but in the end you'll have bragging rights for climbing "The World's Tallest Mountain."
If you think about where this island is placed, rising 37,820 feet above the floor of the Marianas Trench, then measuring from the bottom of sea level to the tip of this peak — Mount Lamlam is the tallest mountain in the world! This submerged mountain is full of secrets waiting to be found.
Every year the trail is used for a tradition by local Catholics of stationing large crosses upon the secondary peak. The path is well worn and there shouldn't be problems finding your way up the mountain. Be warned if it rains the trail gets slippery so bring good hiking shoes and the sword grass can cut your hands so gloves are also useful.
Location: Along Route 2 in Hågat. Park near the wall on the right side and the trailhead is on the left across the street.
Duration: About 2 hours
Level of Ease: Medium. Expect sword grass, rough rocks, and steep slopes.​
Driving directions: If you are coming from Tumon Bay, it will take approximately 40 minutes to reach the trailhead. Turn right (south) onto Marine Corps Drive and continue on Route 1. You will be forced to turn left before entering the Navy base. This will lead you onto Route 2A, continue onto Route 2. You'll reach Hågat, drive through and continue approximately 3 miles. You will see a red wall on the right side where you can park, the trailhead is on the left, across the street. There is a small green trail sign by the head. If you reach Humåtak you've gone too far and need to turn around.
Best Time to Go: Before sunrise or before sunset (time depends on what month you go up) to catch them from on top of the mountain. It's a great way to beat the heat as there isn't much shade going up.
1,001 STEPS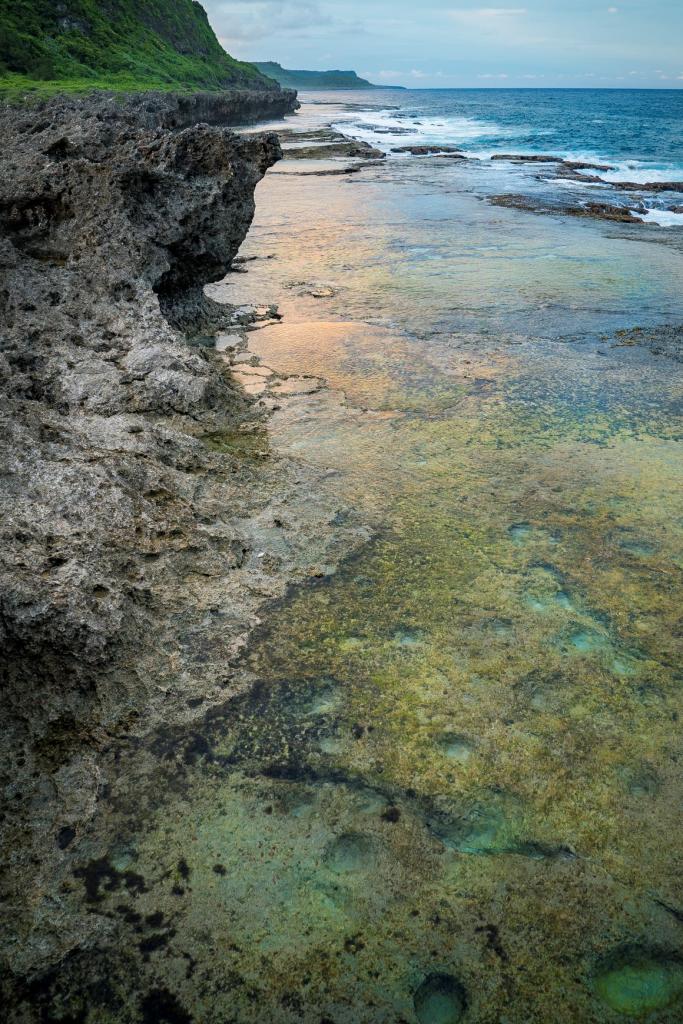 Catch the backside of a sunset or rise early and (hope to) sight dolphins at this peaceful and picturesque cliff in Mangilao.
Flights of stairs were built to allow access to the bottom of the cliff where another marked path takes you towards rocky shores boasting a beautiful view of the eastern cliffline of Guam and the Pacific Ocean. The trail is not one long stair case, but a series of paths and stairs leading to Taguan Point & Fadian Cove.
Location: Back road to Anderson, Taguan Point, adjacent to Mangilao Golf Course
Duration: (2 hours) 20-30 minutes to the bottom of the steps
Level of Ease: Medium for steep steps
Driving Directions: If heading southbound in Mangilao on the back road of Andersen, make a left turn on the road right before the fence of the Mangilao Golf Course. There is an official sign marketing the entrance. Follow the paved road straight down. Continue on to the dirt road at the end of the paved road, and it will take you to a paved parking lot area for Taguan Point.
Best Time to Go: Around 9 a.m to 11 a.m. There have been sightings of dolphins swimming by. The trees provide a nice canopy that protects you from the heat, but should it rain, have a firmer grip on the railings as the stairs are steep.
THE TRAILS OF RITIDIAN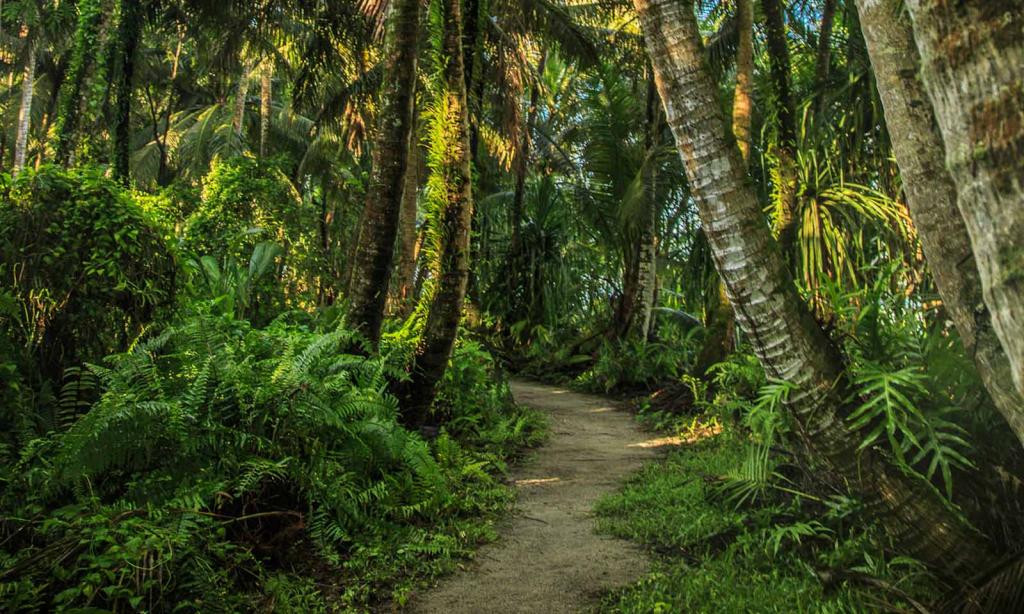 Ritidian Point may be famed for its powdery, white sand and jeweled waters, but beyond the splendors of its shoreline lies much to see. The beach itself is just the ornamental fringe of the 1,203-acre Guam National Wildlife Refuge, home of Marianas fruit bats, crows, and tree snails, plus significant remnants of ancient CHamoru culture. A full day exploring at Ritidian will yield lattes, water wells, and pottery fragments—evidence of the once-thriving CHamoru village that likely predated the 1521 arrival of the Spanish by more than five hundred years.
Thanks to well-maintained trails that are open and free to the public, visiting these sites is easy.
Unless there is a closure, the refuge offers three trails: Nature (1.25 miles), .75 Latte Loop (.75 miles), and Ritidian Caves (.5 miles). Thanks to even grades and heavy shade, these trails are family-friendly for even very small children. There are also benches to rest on if you need to take or breather or just enjoy the surroundings.
Location: Inside the Ritidian National Wildlife Refuge
Duration: About 2 hours
Level of Ease: Easy
Driving directions: Access Ritidian via Route 3A from the Route 9/Route 3 interchange approximately 6 miles from the refuge headquarters. Travel north on Route 3A for 4.5 miles, then turn left and continue downhill 1.5 miles to the refuge. The road is heavily potholed, so drive carefully if you're in a sedan. And be sure to stop at the scenic overlook. On clear days, Rota is visible! Swimming is not recommended due to strong currents. Lock all vehicles and take valuables with you.
Best Time to Go: The refuge is open from Wednesday to Sunday from 7:30 a.m. to 4 p.m. It's closed on Monday and Tuesday, federal holidays and during hazardous ocean conditions.